Board of Directors
Striving for Excellence since 1995
Our Board of Directors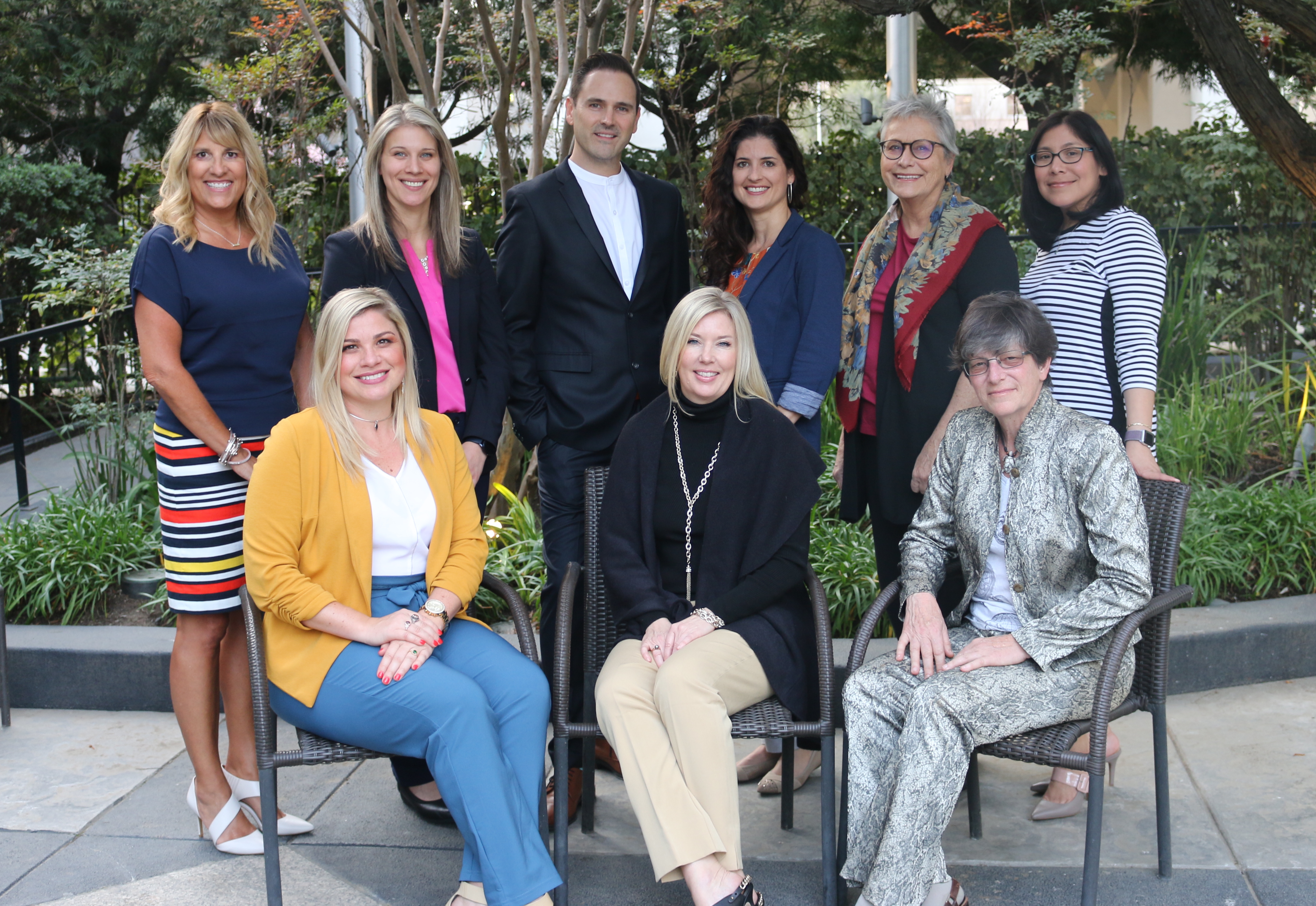 Left to right back row:  Lori Stokes, Sarah Seitz, Todd Olivas, Stephanie Leslie, Lindsay Pinkham, Veronica Guerrero
Left to right front row:  Jamie Asbury, 

Erika Sjoquist,

 Mary Pierce
)
PRESIDENT
Erika Sjoquist, CSR 12350, RPR, CRR
Port Hueneme
Email:  president [at] CalDRA dot org

PRESIDENT-ELECT
Mary Pierce, CSR 6143
Huntington BeachEmail:  presidentelect [at] CalDRA dot org

 

VICE PRESIDENT
Jamie Asbury, CSR 13308, CCRR, CLR
Email:  vicepresident [at] CalDRA dot org

SECRETARY
Sarah Seitz, CSR 14175, RPR
Walnut Creek
Email:  secretary [at] CalDRA dot org



 

TREASURER
Jamie Asbury, CSR 13308, CCRR, CLR
Email:  treasurer [at] CalDRA dot org

DISTRICT 1
Lori Stokes, 

CSR No. 12732, RPR, CRI


Walnut Creek
Email:  district1 

[at]

CalDRA dot org
Counties Representing: Alameda, Contra Costa, Marin, Mendocino, Monterey, Napa, San Benito, San Francisco, San Mateo, Santa Clara, Santa Cruz, Solano and Sonoma counties
 
DISTRICT 2
Veronica Guerrero, CSR 14129
Email:  district2 

[at]

CalDRA dot org
Counties Representing: Alpine, Amador, Butte, Calaveras, Colusa, Del Norte, El Dorado, Fresno, Glenn, Humboldt, Inyo, Kern, Lake, Lassen, Madera, Mariposa, Merced, Modoc, Mono, Nevada, Placer, Plumas, Sacramento, San Joaquin, San Luis Obispo, Shasta, Sierra, Siskiyou, Stanislaus, Sutter, Tehama, Trinity, Tuolumne, Tulare, Yolo and Yuba counties

DISTRICT 3
Lindsay Pinkham, CSR 3716, CRR, CCRR
Email:  district3 at CalDRA dot org
County Representing: Los Angeles, Santa Barbara, and Ventura counties

 
DISTRICT 4


Stephanie Leslie, CSR 12893, CCRR


Email:  district4 

[at]

CalDRA dot org 
Counties Representing: Orange County, plus all Professional Members residing in counties or states other than California or the USA.
 
DISTRICT 5
Todd Olivas, CSR 12337
Email:  district5 

[at]

CalDRA dot org
Counties Representing: Imperial, Riverside, San Bernadino, and San Diego counties.
 
EXECUTIVE DIRECTOR
Sally Poppe
Deposition Reporters Association


4733 Torrance Boulevard, #815
Torrance, CA  90503
888-867-2074
Email: memberservices [at] CalDRA dot org


EVENTS COORDINATOR


Vicki Squires

888-867-2074 
Email: memberservices [at] CalDRA dot org

NEWSLETTER EDITORS


Cheryl Haab, CSR 13600, RPR, CLR


and


Mary Pierce, CSR 6143


Email: newslettereditor 

[at]

CalDRA dot org
LEGISLATIVE CHAIR
Antonia (Toni) Pulone, CSR 3926
Pulone & Stromberg
San Jose
408-280-1252
Email: legchair

 [at] CalDRA dot org

LEGISLATIVE ADVOCATE
Ed Howard
Howard Advocacy
PAST PRESIDENTS:

Ex Officio

Diane Freeman, CSR No. 5884, RPR
Marin
diane [at] freeman reporting.com

Cheryl Haab, CSR 13600, CCRR, RPR, CLR
Huntington Beach
cherylhaabcsr [at] gmail.com


2016-2018
Monyeen Black, CSR 10574, CCRR, RPR, CRR
Paso Robles, CA
Email:  monyeen black [at] gmail.com

2015-2016
Rich Alossi, CSR 13497, RPR, CCRR, CLR


2014-2015
Kristi Johnson, CSR 12858, CCRR, CLR
Santa Margarita Parkway

 

2013-2014
Vicki Saber, CSR 6212, RPR, CRR, CCRR, CLR 
Redondo Beach, CA 90277
Email:  vsaber [at] aol.com

2012-2013
Susan Campana, CSR 9573, RPR
Agoura Hills, CA 91301-1937
Email:  csrsue9573 [at] sbcglobal.net
2010-2012
Lisa Michaels, CA CSR 6361, RPR, CCRR, CLR
Chase Deposition Services
Anaheim, CA 92806
Email: lisa [at] deposervices.com


2009-2010
John Squires
Sacramento, CA 95820
2008-2009
Antonia (Toni) Pulone, CSR 3926
Pulone & Stromberg
San Jose, CA 95126-2325
Email: apulone [at] pulone.com
2007-2008
Valerie Eames
Eames Court Reporters
Burbank, CA 91505-2818
Email: veames [at] sbcglobal.net
2006-2007
Holly Moose, CSR 6438, RPR, RMR, RDR, CRR, CCRR, FAPR
Fellow of the Academy of Professional Reporters
Sausalito, CA 94965-2050
Email: holly [at] hollymoose.com
2005-2006
Christine Randall, CSR, RPR
Wood & Randall
Bakersfield, CA 93301
Email: CR5598 [at] aol.com
2004-2005
Rosalie Kramm, CSR, CRR
Kramm & Associates, Inc.
San Diego, CA 92101-2024
Email: rosalie [at] kramm.com
 
2002-2004
Mary Bardellini, CSR
Mary Bardellini & Assoc.
Auburn, CA 95603-4811
Email: depos [at] bardellini.com
2001-2002
Lynda Goddard
Redondo Beach, CA 90277-4452
Email: ljgoddard [at] roadrunner.com
2000-2001
Anne Torreano, CSR 10520, RPR, CCRR, CLR
Email: torreano6 [at] comcast.net
1999-2000
Katherine Wayne
KCW Reporters
Eureka, CA 95501
Email: kjwayne [at] suddenlink.net
1998-1999
Karen Klein
Ludwig Klein Reporters
Toluca Lake, CA 91602-1426
Email: Karen [at] ludwigklein.com
1996-1998
Lois Ludwig
Ludwig Klein Reporters
Toluca Lake, CA 91602-1426
Email: lois [at] ludwigklein.com
DISTINGUISHED SERVICE AWARD
The Distinguished Service Award is conferred upon outstanding individuals who have dedicated significant time, effort and talent to advancing the stenographic reporting profession, as well as the goals and philosophies of CalDRA.  CalDRA recognizes that its achievements are the result of the combined efforts of such individuals who toil tirelessly in the background and it wishes to acknowledge these individuals for their commitment and dedication. 
Past recipients of the DSA
2018 - Karen Klein
2017 - Rosalie Kramm
2016 - Lisa Michaels
2015 - Holly Moose
2013 - Mary Bardellini
2011 - Anne Torreano
2010 - Stephanie Grossman
2009 - Nancy Patterson
2008 - Toni Pulone
2007 - Ned Branch
2006 - Lois Ludwig
CalDRA accepts nominations for the Distinguished Service Award from March 1 through November 15.  DSA Nomination form - HERE