CCEM (California Continuing Education Member) Guidelines
1.0 points a year must be accumulated to achieve the designation of CCEM

.5 points of the total 1.0 required must be accumulated from CalDRA seminar/convention attendance

.5 points of the total 1.0 required must be accumulated from Professional Development activities (as listed below)

1 hour of seminar attendance = .1 points (5 hours equals .5 points)

Professional Development activities are worth .1 each (5 activities equals .5 points)

To achieve the designation of CCEM, points must be accumulated between January 1 and December 31 of the same calendar year

Once the requisite number of points are obtained and verified by CalDRA, designees will receive the CalDRA CCEM logo for the following year

Designation is valid for one (1) calendar year, which is indicated on the logo
Professional Development volunteer activities include, but are not limited to*:
Mentoring a student through the CalDRA mentor program (.1 points per student mentored)

Bringing a student intern to a deposition (maximum of two per year)

Serving on a CalDRA committee

Writing a newsletter article for The Deposition Reporter

Attending a CalDRA Board of Directors meeting

Attending a California Court Reporters Board meeting

Recruiting a new** professional member to join CalDRA

Sponsoring a student's full CalDRA event registration

Being a speaker/presenter at a CalDRA seminar or convention

Volunteering at a CalDRA-sponsored and approved event

Participating in a career fair day at a high school, junior college, or other job recruiting event
Be proud to display your achievement on your business card.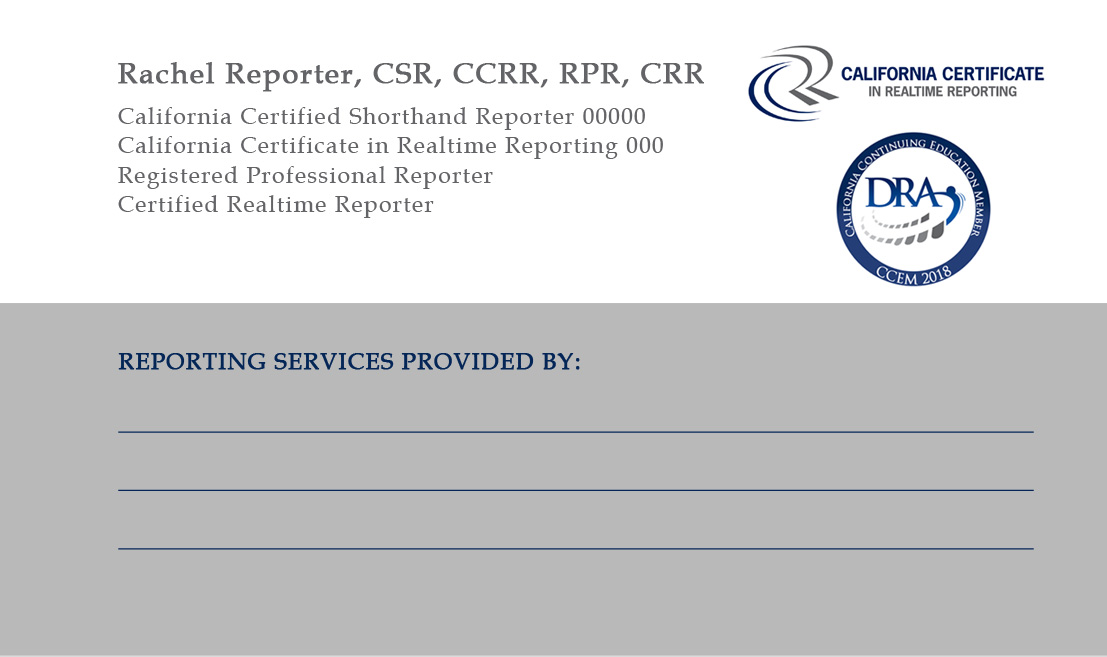 *Additional Professional Development volunteer activities not explicitly listed herein may be reviewed by CalDRA's Board of Directors for approval on a case-by-case basis. A detailed explanation of and proof of participation in the activity in question will be required for the review process.
** "New," for purposes of membership, is defined as follows: (a) never having previously been a member of CalDRA; or (b) membership has lapsed for a period of at least one (1) year prior to the date of renewal